[Webinar] Cold Climate Heat Pumps: Warm homes on the coldest days
Wednesday, December 14, 2022, 03:00pm - 04:00pm

by
This email address is being protected from spambots. You need JavaScript enabled to view it.
High efficiency heat pumps - often called Cold Climate heat pumps are a key technology in helping individuals and communities move towards rapid electrification and decarbonization no matter where they are located. Because they are designed to maximize heating efficiency, they are able to keep houses warm in cold climates where temperatures fall well below zero.
Free registration here. However, donations are welcome, see details below.
Our panelists from two of the leading heat pump suppliers, Mitsubishi and Daikin, will share the latest research and updates on cold climate heat pumps. We will also hear from Efficiency Maine who has been installing heat pumps in one of the coldest states in the US for years. We will answer questions such as;
What is a cold-climate heat pump and how is it different from other heat pumps?

What are the outside temperatures that these systems will operate in?

What are good applications for this technology and where are they not required?

How much more do these systems cost?

Are there special building requirements for them to work?

What do studies from Maine say about cold climate heat pumps?

What should buyers consider before buying one?

What incentives are available for cold climate heat pumps?
Panelists
Laura Martel - Efficiency Maine. Laura is a research and evaluation manager for the Efficiency Maine Trust, the independent administrator for programs that promote energy efficiency, alternative energy resources, and carbon savings in Maine. She has more than 18 years of technical leadership, project management, and research and evaluation experience. Laura holds a B.S. Degree in Ocean Engineering from Florida Atlantic University and a Master of Engineering in Acoustics from Pennsylvania State University.
Shawn LeMons is the Performance Construction Manager at Mitsubishi Electric Trane US, focused on efficient cooling and heating systems for residential new construction. He has multiple certifications including LEED Green Rater, HERS Rater and ICC Residential Energy Inspector. He has 25 years of experience in the residential building industry with small and large companies, non profits, and volunteer work. Since 2009, he has completed analysis on over 6 million square feet of residential and commercial buildings.
Jonathan Moscatello is the Business Development Manager at Daikin North America. He is a nationally regarded expert in residential contracting and heat pumps and a co-owner of The Heat Pump Store, a heat pump only contracting business based in Oregon that has installed heat pumps in over 20,000 homes. His wife Sarah runs the contracting business while Jonathan consults with utility.
Donations:
Please consider making a donation for this webinar to the Electrify Everyone Fund. All proceeds from your donations go towards installing free heat pump water heaters in low income homes through the nonprofit Community Energy Project [Portland, ME]. Your donation will help reduce carbon emissions and lower utility bills for these families. Thank you!
This webinar brought to you by the Electrify Coalition: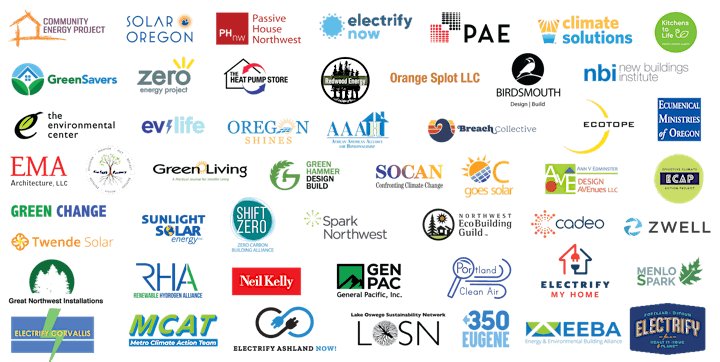 Location
online, please register in advance